The use of hardware net for pests and birds control.
Agriculture business or farming is a task that needs high dedication, maintenance and protection. To fulfill all these requirements, a number of tools and techniques are used by farmers and growers. Hardware net is one of the most popular and effective of them. It is used as a defensive boundary around plants or crops in a garden, farm or agricultural field to protect the agricultural products from any sort of damages caused by pests, birds and people. Usually it is used across the fences of the rows and buds of plants. It is frequently suggested for tomato, cucumber and other vegetables as well.  It also decreases the need of frequent removal of the annoying yellow and spoiled leaves of the plants. It is considered as an agricultural beneficial competence and skill. 
Hardware net – Various types and Uses
This hardware is mostly furnished in ultra-violet shades to decrease the impact of overheating and sun light to the plants. The material used in hardware net is soft and easy to handle without causing any injury to the gardeners. It is also used as bird netting especially at poultry production units, where bird control is categorically necessary. For this purpose it may be made up of nylon threads fiber that causes no injury to the birds but only restrains them from reaching the crops. 
On the other hand, thick mass netting made up of polyethylene is used in low temperature areas and vast agricultural fields. This type of hardware net has the longest life and highest quality.It has the ability to glide over water and is lighter in weight as compared to polyester or even nylon fiber.
Another type is meshed net which is made up of metallic cloth. It is available in two colors, black and silver. It is mostly used in long range of trees or to repair garden buds and fences. A wide variety of hardware net is available with Hortomallas in guaranteed lowest possible cost. The products available at Hortomallas are positively admired by local and international users.  
Main features of Hardware net available nowadays are:
Constructed from polyethylene threads.
Non-rustable material.
Colors and shades that are anti-ultra-violet rays.
Light weighted.
Even and smooth corners.
Fitted in wooden frame or fence (optional)
Almost invisible to sight from a certain close distance.

 

Reusable at least twice in open areas and even more than twice in green houses.

 
Hardware net is a low cost tool of agricultural protection and it also has long life. It safeguards your valuable crops from a number of damages. It is highly recommended for the fertile areas with zero tolerance. The cost incurred by growers on its installation either it's for plants safety, bird netting or growing net, will be covered in a single season of crops reaping. The production yield increases as the damage or loss of the crops decreases. The only thing is the labor which is applied for its installation and removal after every crops' season. But once they are installed they do not require any regular maintenance, cleaning or check and balance. Moreover, the reward overcomes its labor cost very well.This may be considered as a biased opinion, but we assure that hardware net is the best solution for crops high yields and safety. It is considered a modern and more effective agricultural tool as compare to the obsolete raffia twine and many others.
Hardware net does not create any sort of hurdle in vertical upsizing of crops or plants rather it supports the standing and firming of plants when they grow vertically. It is neither a blockage to the air and water flow among the stem and roots of a plant. Sometimes the fiber of net is showered with anti-pest spray. It aids to the pest control function of hardware net and prevents pests and other bugs to reach crops and cause damage to them.
For instance the example of Temple University which is located in Philadelphia is worth mentioning. The university farms and orchards were victims of high damages of crops mostly caused by birds especially in crops cultivation season. In the year 2013, a government supported and funded program via Crops Sustainability Department, hardware net was installed alongside the fences of farms and gardens. The damage was decreased to a significant level and no bird was injured or killed in the whole season.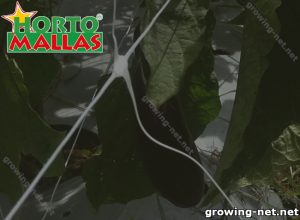 Reasons of popularity of hardware
The reasons of popularity of hardware net nowadays are its ultimate benefits to the plants. Some of such benefits are highlighted as under: 
Surface area of plants, buds and rows are safer when hardware net is applied to them.
A protected barrier or safeguard to the plants patches, trees, crops, fields and home gardens.
Decreases the ultra-violet effects of sun rays. Often a black color net is used particularly in mostly sunny areas, as it highly absorbs sun beams.

 

Safeguard plants from children, the passerby, home pets, birds and bugs of various types.
Serves as supportive scheme for vegetables and fruits plants.
Used as bird netting to decrease the damage caused to crops particularly in the fruit season by the uninvited birds.
The growing net increases productivity and the plants grown under it are less infected and septic.
Black hardware net is recommended for mostly sunny areas as it absorbs more quantity of solar rays.
Green netting is used in areas with moderate weather conditions.

 

Resistant to plants decomposing.

 

Guard against rain and hail damaging.
Guard against various types of deceases, caused by mosquitos, pests and other soil bugs.

 

Easy handling; without weaving or lacing.

 

It is easily applicable and need no electricity or solar power to operate.